If you're looking for something that will clean your floors thoroughly, considering the best vacuum under $200 comes to mind.
These devices now come with a lot of different tools and accessories that allow them to not just remove dust from flooring but also get rid of pet hair from the couch, pillows and even the curtains.
Whenever a regularly used household appliance breaks it becomes a hassle because you'll need to quickly replace it. So for some people picking out a more expensive product that offers better performance and will last longer is worth the extra cost.
Here are our top picks for the top rated vacuum cleaners under $200.
1.      Shark Navigator Professional Lift-Away NV356E
A lot of vacuums do a good job of suction. They pick out dirt and debris from all different areas of the homes. But once collected, you'll notice that some of the particles will later escape from one of the tiny holes in the machine.
To solve this problem, the Shark Navigator uses a sealed dust cup to ensure that no pollutants are redistributed back into your home's environment after you've vacuumed.
One of the coolest things about this device is it physically looks like an upright vacuum cleaner but in reality it is an upright, canister and handheld rolled into one.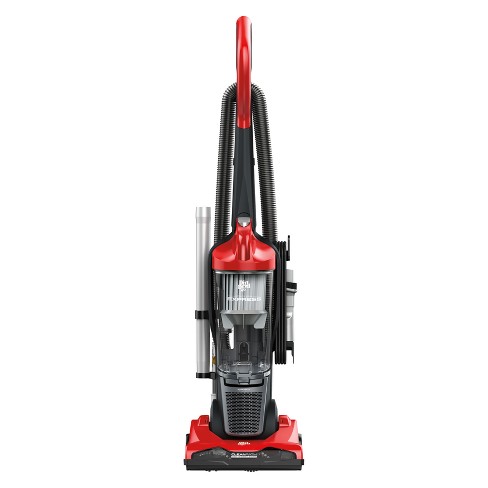 When you need to do the carpets and hardwood floors, it is easy to control and lightweight, making it easy to push and maneuver around the house.
To reach those high ceilings or take dust off fabrics, pull out the 12 foot hose, clip on the proper attachment and it now works like a canister.
Finally, if you need something small that's easy to carry, lift off the detachable canister with the hose and it now becomes a larger handheld vacuum that makes doing the stairs or sanitizing the car an easier job.
Here are the lists of top rated cheap canister vacuum cleaners.
2.      Hoover FloorMate SpinScrub Wet/Dry Vacuum FH40010B
If you have a specific type of flooring which needs to be washed and scrubbed to get the best results, this is the best vacuum under $200. Now this isn't for everyone and really caters to people whose homes have hard flooring that needs to be washed, like tiles.
This is a convenient and more efficient alternative to the difficult task of mopping or getting on your hands and knees to scrub out those stains.
What you get is a dual tank device that stores clean and dirty water separately. Just fill one of the tanks with water, you can include a cleaner if you wish, the clip it back on to the machine.
From there pick out if you want to vacuum, wash or dry the floors by using the dial selector on the handle.
The device will wash by releasing just the right amount of water then use its counter rotating SpinScrub brushes, located underneath the machine to remove stains from spills or other stubborn dirt on floors. The drying process is also fast because it only uses the optimal amount of liquid.
3.      Hoover Linx Cordless Stick Vacuum
If you're looking for a more conventional styled lightweight cleaner that isn't heavy and doesn't require a power cord, this is a the best cordless vacuum under $200 fitting that description.
Using a rechargeable Lithium Ion battery as its power source, all you need to do is charge the device beforehand and you'll be able to clean all the rooms in your home without having to worry if the cord is long enough to reach the socket.
Very sleek looking, it comes in a nice gray and black shade with a number of LED indicator lights to inform you if your battery is close to running out and needs charging.
Because this cleaner is bagless, you won't need to go to the store every time the container is getting filled. Instead, just detach the dust cup, position it over the trash, click on the release button and the bottom of the cup will open and empty the dirty contents.
Filter maintenance is required, and done by rinsing over faucet water. You can use a small brush to extract the stubborn particles that get stuck.
Overall, this is an easy to operate, lightweight device that gets different types of particles from rugs and bare floors.
4.      Hoover WindTunnel T-Series Pet Rewind Plus, UH70210
Among our picks, this is as close as you'll get to the classic vacuum cleaner. Note that this isn't your grandma's vacuum that comes with a big bag and loud noise.
Instead, it uses Hoover's WindTunnel technology to efficiently suck, trap and keep dirt in dust container. It handles pet hair well, cleans carpets and rugs, and won't scratch hardwood floors.
The built in headlight is a welcome bonus that lets you see under furniture while you clean.
For rugs, pick one out of the 5 adjustable height settings that will fit your carpet's length. This way, you can get the optimal brushing of the fabric strands and not destroy them.
When moving to hard surfaces, just tap on the foot switch to turn off the rolling brush and you're safe to work on wood, laminate and bare floors.
One of the best additions to the upright vacuum has been including a hose. This makes this Hoover T-Series more versatile. And with attachments like the pet nozzle and crevice tool you can clean up pet hair on stairs, couch cushions and even felt.
When done cleaning, the automatic retractable cord makes tidying up fast. While the bagless design also means all you have to do is press a button to open the dirt cup and drop the contents into the trash bin. The filter is reusable, which means it eliminates the added cost of getting more filters.